Plug-in Type PU Panel for Cold Storage
Plug-in cold storage board's connection is the concave groove docking, the outside can be pulled with a rivet, which can be plastic. and filled with PU filling, and cut off the cold bridge, which can be used for large cold storage or air conditioning library. Standardwidth:960mm,1150mm,length is arbitrary. Thickness: 50mm,75m     m,100mm,120mm,180mm,200mm,250mm
1.Density: 40kg/m
2.Thickness:0.4~0.8mm
3.Thermal conductivity: K?0.024W/n℃
PU Sandwich Panel Type
The cold plate is made of light polyurethane with good heat insulation performance. The outer plate is made ofPVC colon steel plate stainless steel plateembossed aluminum platesalted steel plate and galvanized sheet. It can
reduce the temperature difference which caused by internal and external temperature difference ofthe heattransfe to achieve the maximum efliciency ofrefrigeration and refrigeration systems.
1.Thickness specification:50mm,75mm100mm120mm,150mm200mm
2.Library board specification:960mm
3.Height:2m~15m
Description
Description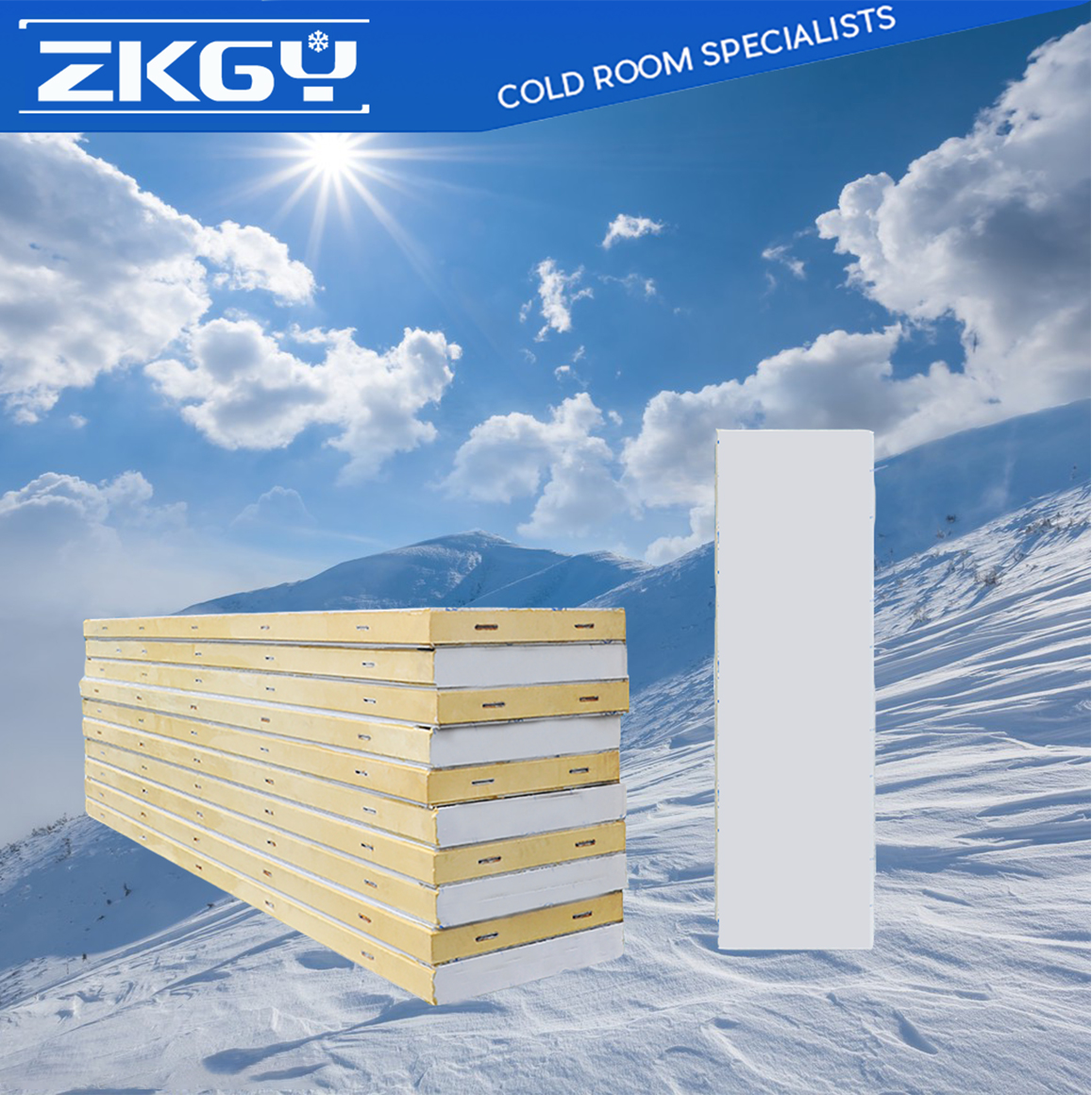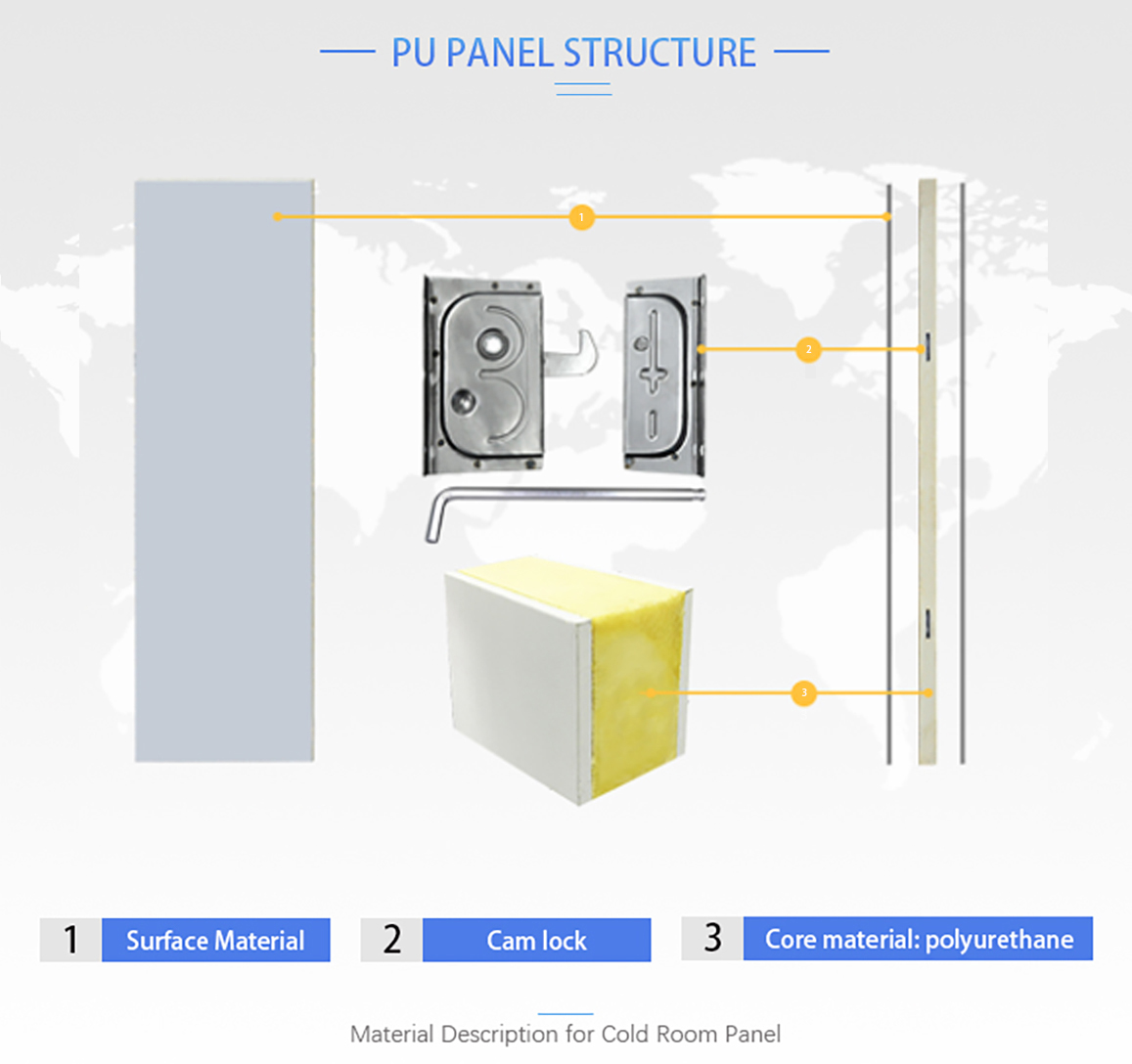 PU sandwich panel structure
Cam-locktype PU sandwich panel is connected by cam-lock, it is easy to install,and has advantages of fire resistance,high compressive strength, good
sealing,and etc.It is suit for temperature of-50℃ to +100Cand nonperishable.Taking polyurethane with excellent insulation performance as core materi and pre-paintedgalvanizediron(PPGI/color steel),304 stainless steel or aluminum as external material,PU sandwich panel can reduce the heat conductior due to difference between internal and external temperature to achieve maximum efficiency of freezina and refrigeration system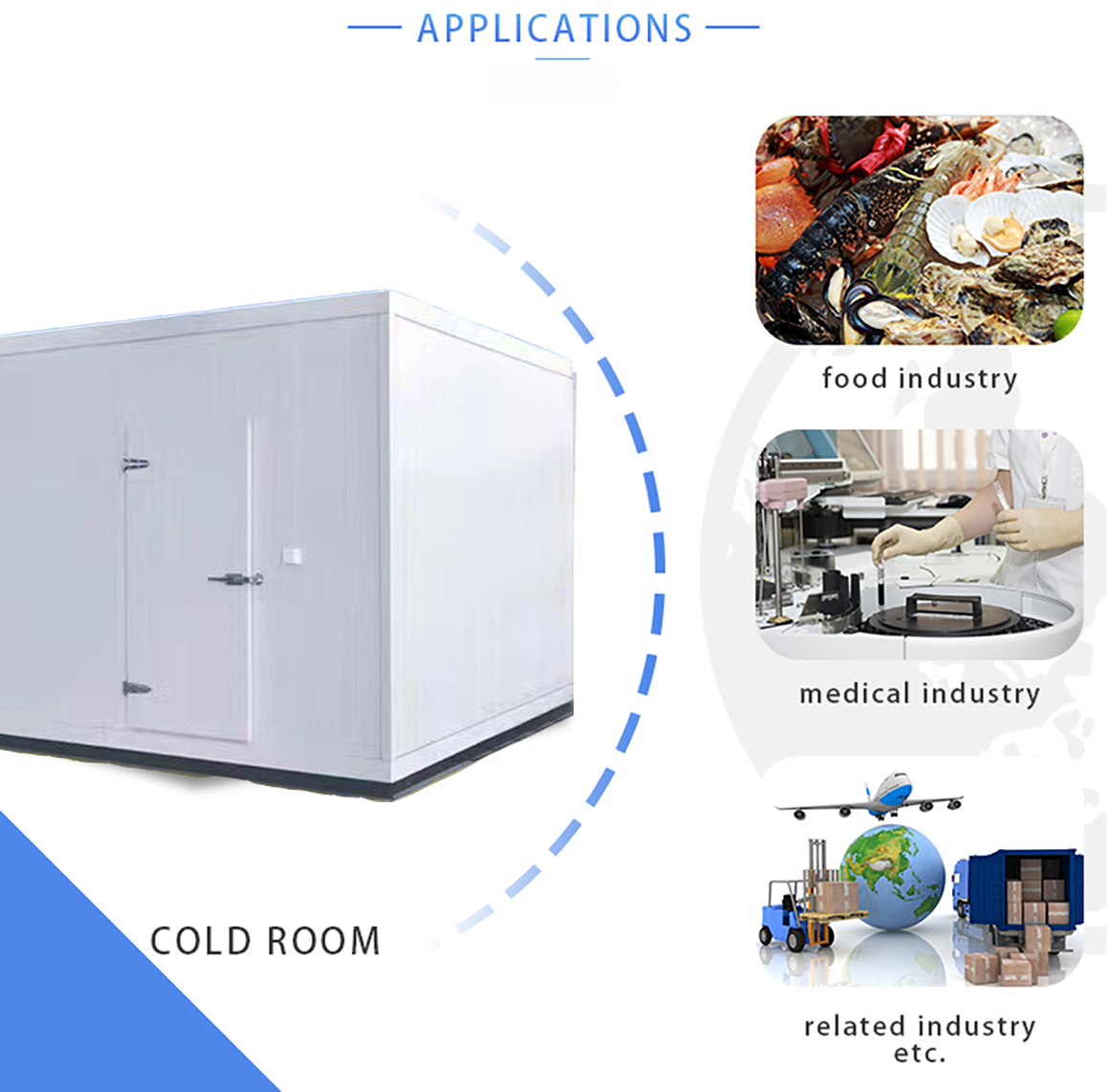 Coldroom applicationsCold room is widely used in food industry, medical industry, and other related industries.In food industry, cold room is usually used in food process factory, slaughterhouse, fruit and vegetablewarehouse,supermarket,hotel,restaurant,etc.In medical industry, cold room is usually used in hospital, pharmaceutical factory,blood center, gene center, etc.0ther related industries, such as chemical factory
laboratory,loqistics center,they also need cold room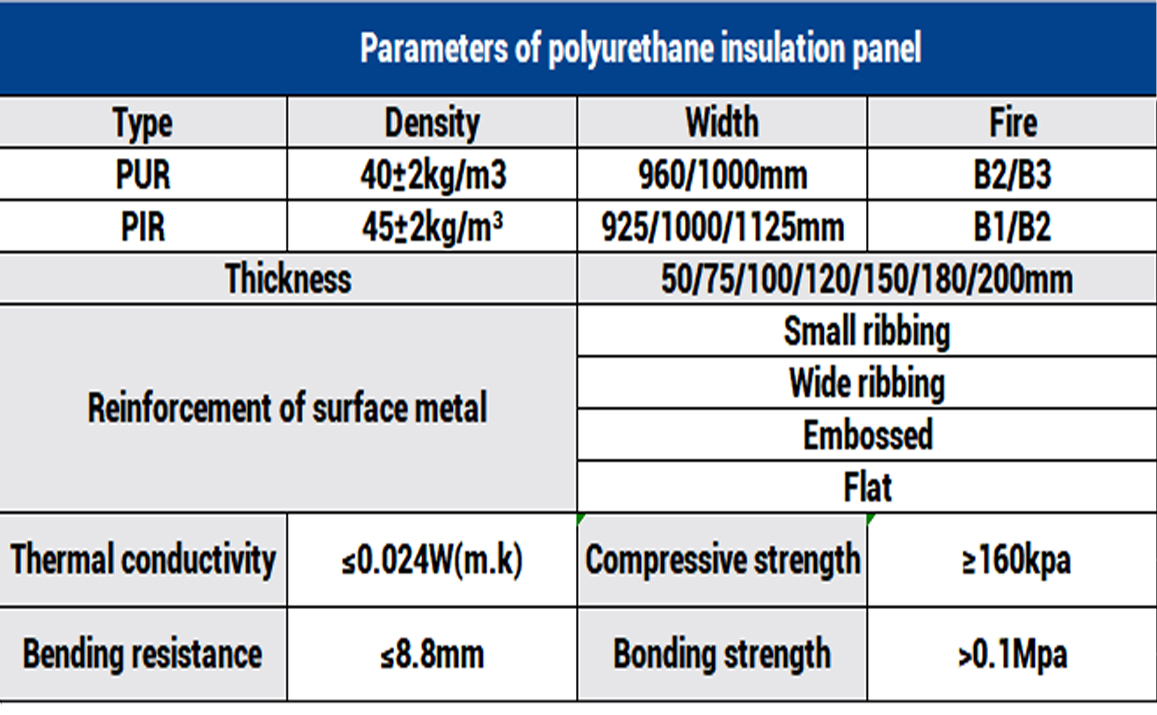 PU Sandwich Panel Type
The cold plate is made of light polyurethane with good heat insulation performance. The outer plate is made ofPVC colon steel plate stainless steel plateembossed aluminum platesalted steel plate and galvanized sheet. It can
reduce the temperature difference which caused by internal and external temperature difference ofthe heattransfe to achieve the maximum efliciency ofrefrigeration and refrigeration systems.
1.Thickness specification:50mm,75mm100mm120mm,150mm200mm
2.Library board specification:960mm
3.Height:2m~15m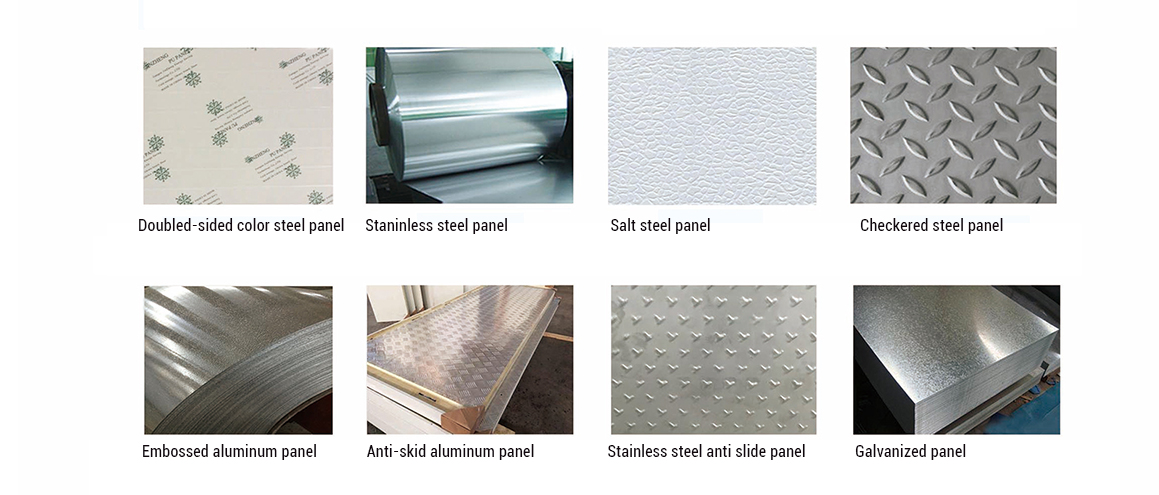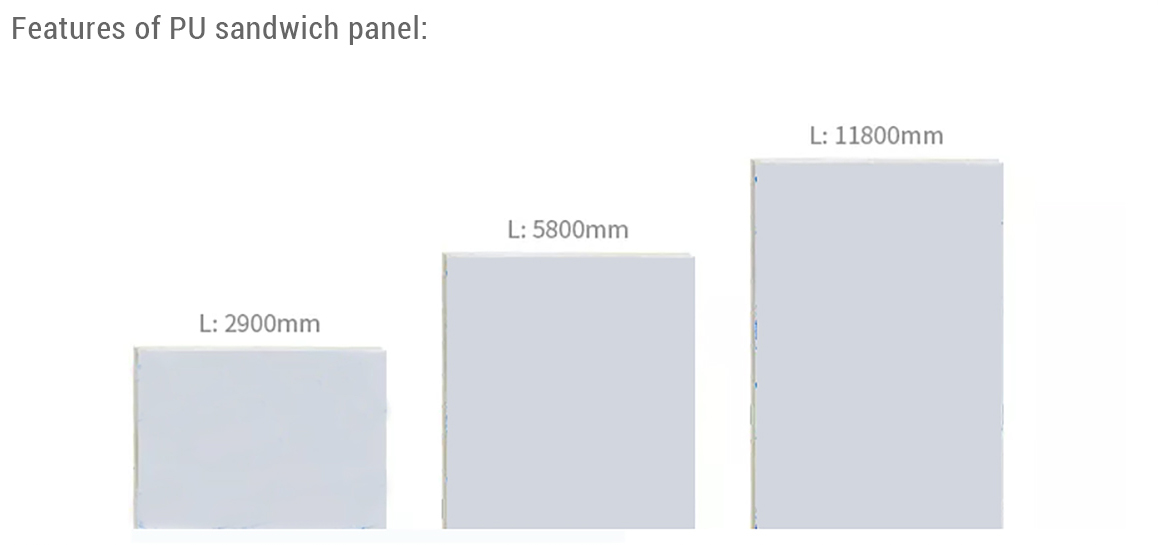 (1)Size:the standard width of PU sandwich panel will be 960mm,the length can be customized, we suggest to produce length of 2900mm,5900mm or 11800mm,to suit the shipping container of 20GP,40GP or 40HC

(2)Connected by cam-lock with tape, no more polyurethane will be filled into cam lock when producing, it is easiei to install.
(3)Using fluoride-free polyurethane and flame retardant, it is more environment-friendly and safe.

(4)For surface material of PU sandwich panelit can be flat, or with ribbing of 15mm width or with ribbing of 50mm width

(5)Foamed by high pressure with density of 38-42 kg/m3,the thermal insulation is good.

(6)Panels can be covered withembossed alu steel additionally for longer service lite