When designing a business, company, or business in the food industry, you should immediately think about the construction cost of cold storage . Here we give you the answer you need: cold storage. Know everything that implies having it, why, and how to use it.
What is cold storage?
Cold storage is defined as the industrial facility used to store products for cooling, conservation, and sale. It is also known as cold storage or cold storage and is divided into several types according to its design and size.
Although they can be found fixed or modular, their function will always be the same: to preserve the products and maintain their properties and flavors, ensuring the right temperature at all times despite the humidity or climate outside.
Companies such as supermarkets, bakeries, restaurants, butchers, hotels, and even pharmacies, must have cold storage for the proper functioning of their daily activities. It is also common to find them in places where scientific research is practiced.
And it is that its system can extract the heat from the closed area and expel it to the outside so that the products are kept by freezing. The elements that make it up are the compressor, condenser, expansion valve, and evaporator. Let's find out the cold storage construction cost.
It is understood then that the cold storage allows the absence of heat, it does not inject cold, but can absorb the high temperatures of the enclosure or the products and food to expel them outside. This is done mainly through the action of refrigerants (chemical compounds that go from liquid to vapor) that induce cooling.
---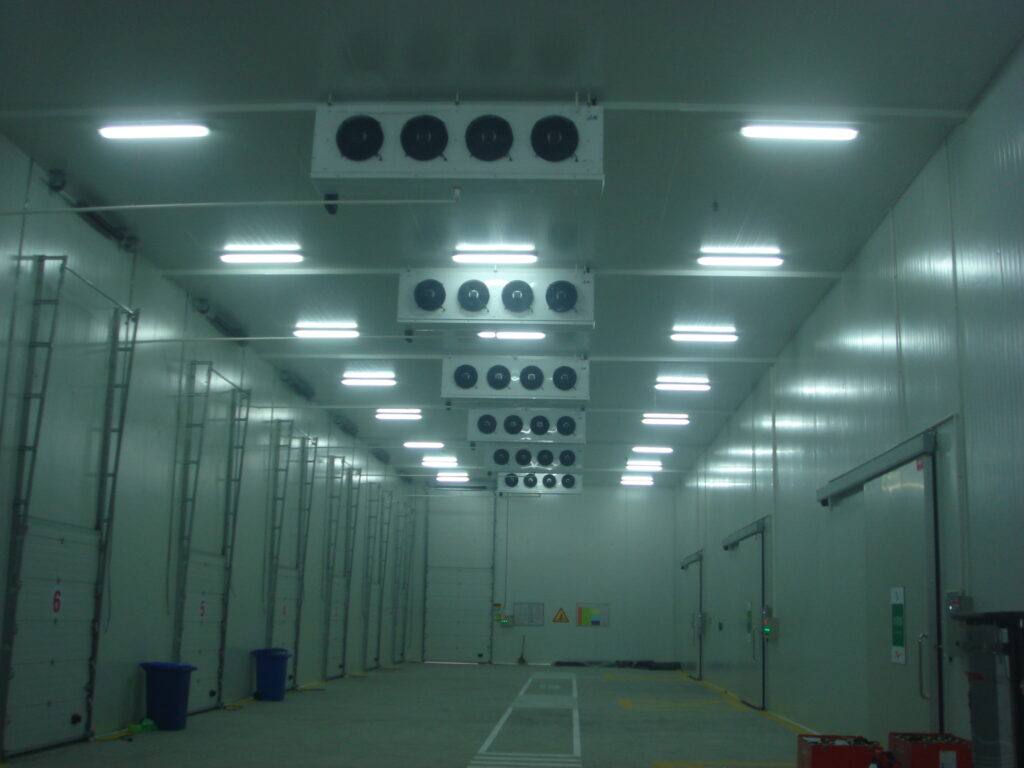 ---
Reasons to have cold storage:
Having cold storage in your company is key because of the cold it provides to food, thus allowing to prevent problems, damage, and infections in products. In domestic areas, the preservation of food is extremely necessary, but in industrial areas, cold storage allows for maintaining its properties and its useful life for the consuming public.
Sometimes, as an entrepreneur, you do not have the slightest idea of ​​what it means to have cold storage in your business until you have to live the negative part of the matter: losses due to damaged food. That's when you understand the need to invest in one of this refrigeration equipment. By the end of this post, we will also check what is the cold storage construction cost.
The cooling process, although it does not destroy pathogens, prevents their growth and keeps your investment in meat, vegetables, fish, vegetables, or dairy products, among other items that deserve very low climates, in perfect condition. Depending on the size of your company, you can determine the cold storage you require, according to the different measurements and capacities.
The perishable products that you market must necessarily have them under the standards of the cold chain before offering them to the public. If you sell meat or dairy in poor condition you will simply go out of business, but if you maintain a reputation with the consumer as a marketer of excellent products, and in good condition, your business will surely stay afloat.
The cold storage offered by CASGYW is made with high-quality materials and current technology, so they stand out in terms of durability and energy efficiency. They are designed for different commercial uses, but always stand out for their high efficiency in cooling and conservation.
The advanced temperature control system and the high thermal insulation of the CASGYW cold storage make them the ideal solution for the excellent conservation of your products, whether they are fresh foods or frozen products that require long-term conservation.
Now, let's learn what is the cold storage construction cost?
What is the cold storage construction cost?
If you want to know about cold storage construction cost, well, it is approx. 2 to 5 Cr for 500 MT general purpose cold storage cost.