COLD ROOM PU PANEL is also called PU sandwich panel
COLD ROOM PU PANEL is also called PU sandwich panel
High quality color Steel fast fit PIR Sandwich Panel for Meat/ Vegetables/ Fruit. PU panel is also called PU sandwich panel, PUR Panel or PUF Panel in which polyurethane foam is been sandwiched between the two outer covers. The CFC-free insulated PU panel is commonly used as the cold storage panels due to its advantageous mechanical, chemical, biological and moisture properties, it is excellent to prevent thermal conductivity, restrain growth of fungi, keep out moisture ingress. We are engaged in manufacturing reliable PU sandwich panels in variegated specifications.
Product Description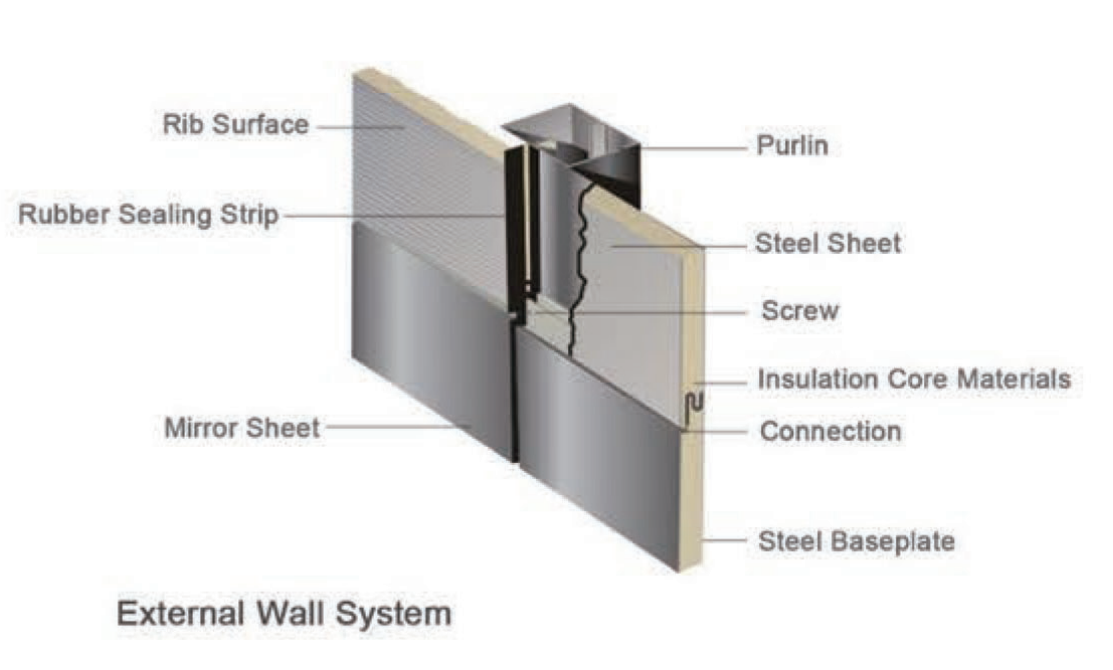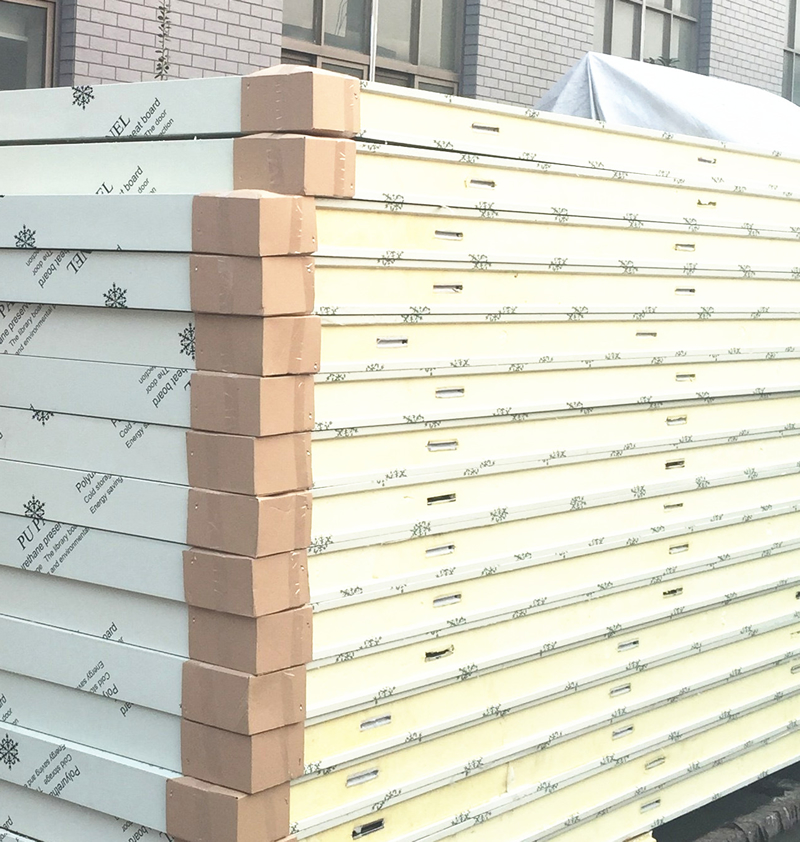 The sizes of GYW PU Panel is customized by your cold room requirements, the maximum length is up to 12,000mm, the available width is 960mm or 1000mm, the available thickness is with industrial standard of 50mm, 75mm, 100mm, 120mm, 150mm and 200mm.
PU panel is suitable for low and high temperature controlled applications like cold room and freezer room, it has the characteristics of good thermal insulation, low cold air leakage, easy to transport and install, lower running cost and higher fire resistance property.
B1 and B2 grade PU panels are available for cold room. All the PU panels are connected by the easily operated built-in cam-lock.
In recent years, we keep on investing more than 1,000,000 dollars to update the automatic manufacturing production lines and bsic product facilities. Our daily PU panel output is about 3000 square meters.
Our high quality PU panels have flat and elegant appearance. The foaming time of each panel is 30 to 40 minutes, so the density uniform and the size stable.
Specifications of PU Panel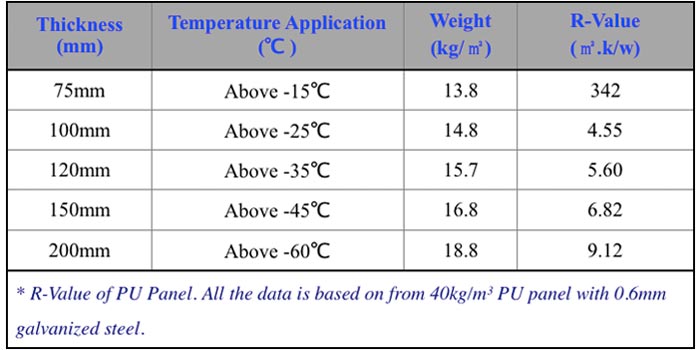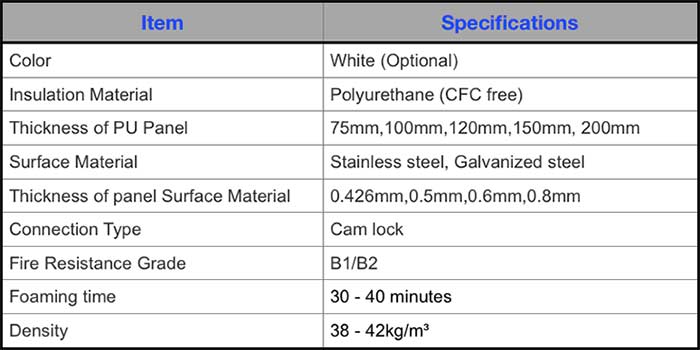 Features of PU Panel
Lightweight and modularized.

High mechanical durability.

Less construction cost.

Perfect isolation attributes.

Good thermal preservation.

Water proof, sound proof.

Energy saving and fire resisting.

Competitive in price.

The coated layers are available in profile with zinc coated, galvanized steel, embossed aluminum and stainless steel etc.

The EC/USDA international hygiene standards.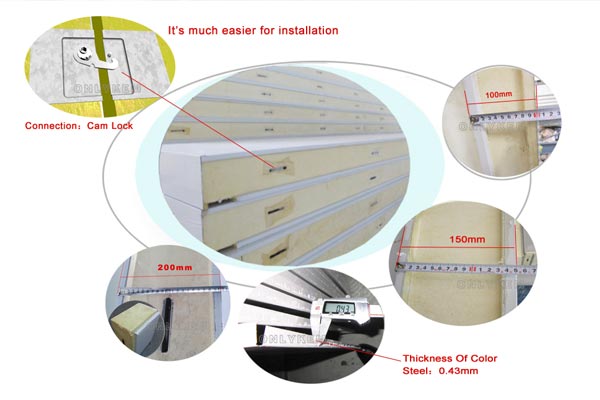 Installation Instruction
As the important component of the freezer & cold room, GYW Brand PU Panels are designed and manufactured with detailed consideration for installation and maintenance. Followed are some instructions:
Before the installation, make sure that the locking devices are at the stop position. To do so, turn the locking devices counter-clockwise, using a wrench with force, until it stops.
2.Push panels together and turn wrench 1/4 turn clockwise. This will engage the male locking device 'arm' over female locking device 'pin'.
3. Keep turning the wrench for another turn until the wrench stops. If there are any problems during the operation of cam locks, turn the wrench counter-clockwise with force until it stops moving any further. This will put the locking device at its original position and you can try to assemble the panel again by moving the wrench in a clockwise direction.
Any questions, please send email to us at caroline@casgyw.com.
Products and Manufacturing Process
CAS GYW Brand Pu Panel factory is equipped with automatic production lines. We had 15 years of experiences of manufacturing PU Panels with daily output up to 10,000 square meters. We have competitive advantages in supply chain management, optimized manufacturing process and quality control which power us to keep high product quality, shorter delivery time and competitive cost to meet the demands of our worldwide customers. Most products had been kept up with the international forefront counterparts. Some of them have enjoyed leading position. Our PU panel products are sold in more than 65 countries around the world.